Northwest Arkansas is a great place to LIVE, PLAY, WORK NWA: for recent grads, families, career changers, entrepreneurs, and more.
Moving to Northwest Arkansas?
Relocating with family can be hard with a new job, new city, and new people. I have moved out of state twice in addition to in-state moves, in other words, I understand the difficulty of selling one house while trying to find a another in an unfamiliar place. I enjoy being able to help clients who move to Northwest Arkansas, NWA, through the difficult process of relocation and learn about their new community.
Relocation to a new place is always stressful, no matter if you move due to a different, better job, or because you need a change. If you are relocating to NWA and would like to receive free information to help you understand the locals, feel free to download the pdf below.
From Bentonville, Rogers, Springdale, Fayetteville, Bella Vista, and Siloam Springs you get learn about what makes each city unique and special. In addition, I included things to consider when relocating your family. Example: schools, movers, and hospitals in each city.
Download FREE pdf Relocation Guide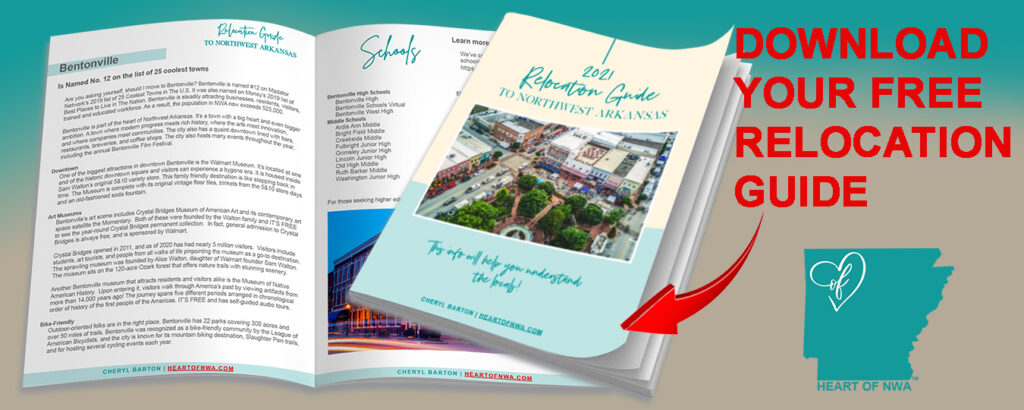 When you're out and about having fun in the Heart of NWA this month, take some photos and share them with me on Facebook or Instagram. I'd love to see you in the Heart of NWA!
If you're interested in buying or selling real estate in Northwest Arkansas, contact me, Cheryl Barton, for more information at [email protected]