Tyson Foods Will Expand Its Corporate Offices in Springdale Arkansas
Tyson Foods has announced plans to consolidate operations at its corporate headquarters in Springdale, Arkansas. The company will relocate its employees from two offices in Chicago and Dakota Dunes, South Dakota to Northwest Arkansas. The relocation is scheduled to start early next year.
The relocation is expected to create more collaborative and innovative workspaces for Tyson team members. The company will be investing in various technology upgrades, allowing employees to take advantage of the latest tools and facilities. Employees can also expect to be closer and more connected, which will improve their ability to make quick decisions. The new facilities will provide an environment that will boost the company's ability to win with customers and team members alike.
Tyson Foods is an American food company that employs more than 137,000 people worldwide. It was founded in 1935 by John W. Tyson and is now one of the world's largest meat producer companies. The company aims to be a good steward of the environment by employing sustainable practices.
For Northwest Arkansas, bringing jobs into other regions could provide the local labor market with an enormous boost. Although NWA is growing as a metropolitan area, there could be difficulties in the near future for Tyson Foods to relocate up to 1,000 people to the region due to the shortage of affordable housing. While the rate of growth will likely slowdown from the record-setting growth of the past however, it's great that the area's major employers such as The University of Arkansas to Tyson Foods, J.B. Hunt Transport and Walmart are expanding as well as investing into their regional operations despite the fact that they are outgrowing the region in many aspects.
Tyson Foods phone number: Phone: 479-290-4000. Toll Free: 1-800-643-3410. Address: Tyson Foods World Headquarters is, 2200 W. Don Tyson Parkway, Springdale, AR 72762.
Living in Springdale, Arkansas
Springdale, the 4th largest city in Arkansas (81,125 population), has an ethnically diverse population and is in one of the fastest growing area in the U.S. It's tucked deep in the beautiful Ozark Mountains and offers plenty of opportunities for things to do. According to a national publication, Springdale was #29 in the Best Places to Live in the U.S. in 2019. The rating was based upon the fact that Springdale's unemployment rate is lower than the national average and the job growth rate (which even during the 2020 pandemic was positive). The types of industries located in Springdale are light manufacturing, trucking and agricultural processing which is anchored by Tyson. The cost of living is lower than the U.S. average although due to the tremendous growth being experienced in NWA, the cost of housing is rising. These are only a few of the many reasons why people choose to live in Springdale.
Downtown
The "Downtown" Springdale area is currently undergoing a revitalization with businesses choosing to move into the Downtown. New opportunities to work Downtown are also available. Currently, there is a concerted effort by the City to create a technology hub in Downtown. Tyson Foods, whose world corporate headquarters and major operations are in Springdale, is locating it technology office Downtown and WhyteSpyder, a technology service provider currently located in Fayetteville, is making the move to Downtown as well to be a part of the growing technology hub.
One of the benefits of business being located downtown is easy access for walkers and bikers to hop on and off the Razorback Greenway which runs through Downtown. This access makes it easy to meet friends Downtown to sample authentic food from a diverse community, grab drinks while listening to live music, do some shopping which can include stopping by the Farmers Market and attend multiple activities. In August 2020, the City Council approved an Outdoor Dining District in Downtown so visitors to Downtown can enjoy eating out while social distancing. The entire family – from toddlers to seniors – can find something to do in Springdale.
Family Activities
Some of the facilities located Downtown include The Jones Center which is a massive indoor facility for the whole family and offers a multitude of activities including an ice-skating rink, pools, an indoor soccer court, the Runaway Bike Park and Pump Trail and fully equipped gym. For those who are more in the mood for less physical activity, they can visit the Arts Center of the Ozarks, the J. Reilly McCarren Transportation Museum or the Springdale Public Library.
New options for shopping, dining, having a drink or for those who want to live Downtown is currently under development. The Emma Street Project, a multi-development recently broke ground and will include 20,000 sq. ft of ground level retail and restaurant spaces with 55 apartment units on the upper floors.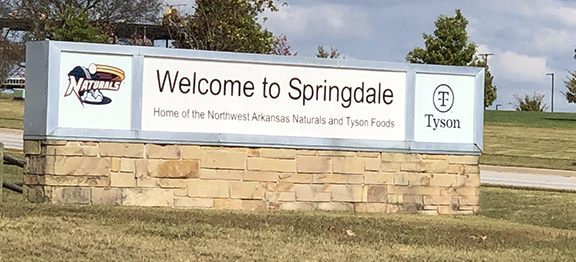 Outside of area of Downtown Springdale, there are numerous activities to enjoy throughout the year which include: Arvest Ballpark, home to the Northwest Arkansas Naturals of the Texas League; the J.B. and Johnelle Hunt Family Ozark Highlands Nature Center providing over 61 acres to learn about the natural world and outdoor recreation in Arkansas; and Parsons Stadium which hosts a variety of events from Demolition Derbies and Monster Truck shows to the Rodeo of the Ozarks.

Moving to Northwest Arkansas
If you are relocating, buying in, living in, or moving to within the heart of Northwest Arkansas, I highly recommend you taking a look at this relocation guide to help with your move. These are only a few reasons why people choose to live in Springdale. Contact us to find out more about why people are moving to Springdale, Arkansas.
Never Miss a Thing in Northwest Arkansas
Let us keep you in the loop. Sign-up here to get a list of fun, local events delivered to your inbox weekly!