Northwest Arkansas is one of the best places to live, offering breathtaking natural beauty, a vibrant economy and plenty of quality of life. Whether you're looking for a place to raise your family or simply want to escape city life, Northwest Arkansas has something for everyone.
Amazing Job Opportunities in a Thriving Economy
The Northwest Arkansas region has been consistently ranked among the top places to live Northwest Arkansas is home to a wide variety of industries, making it an ideal place for job seekers. Many Fortune 500 companies, such as Walmart, Tyson Foods and JB Hunt, are based here and offer great growth potential in a thriving economy.
Nationally Recognized Art Museum
The Crystal Bridges Museum of Art, a nationally recognized American art museum, is located in the area. Walmart co-founder, Alice Walton is a major patron of the museum. Additionally, the museum features a permanent collection of art, with pieces dating back five centuries.
Ranked Top Ten
Fayetteville is a rapidly growing metro area with many attractions and activities. Home to the University of Arkansas and the flagship campus, the city is a hot spot for both education and entertainment. For more information about the 2023-24 Best Places To Live rankings from U.S. News & World Report, visit https://realestate.usnews.com/places/rankings/best-places-to-live.
Fayetteville is the main regional hub for Northwest Arkansas. The city is tied for first place in employment, tied for third place in weather, and has the fourth-highest total of amenities.
Affordable Homes
The affordability of homes in the Northwest Arkansas region is one of the main reasons to move there. While the housing costs are high, they are more than offset by the high-quality school system and job market. Many people enjoy living in this region for its small town feel and access to various businesses.
The region has seen an increase in housing prices due to the ongoing growth. Over the past year, the median list price has risen by more than 10%. Although it is still below the national average this number is expected to rise further.
The area is poised to be one of the 100 most populated metropolitan areas in the United States. The area's home values are expected to rise as well. The region offers a wealth of amenities, including high-quality schools and exceptional hospital services.
Local Businesses
In addition to the traditional attractions, the area is home to a thriving microbrewery scene. Grit Studios, Startup Junkie and Field Agent are local support groups that encourage residents to pursue their creative goals.
The Northwest Arkansas National Airport is another great feature of the region. Situated next to quiet neighborhoods, the airport is convenient for visitors and residents alike.
The Northwest Arkansas region has a lot to offer, whether you're looking to retire or start a family.  If you need a relocation guide check out this article.
Download FREE pdf Relocation Guide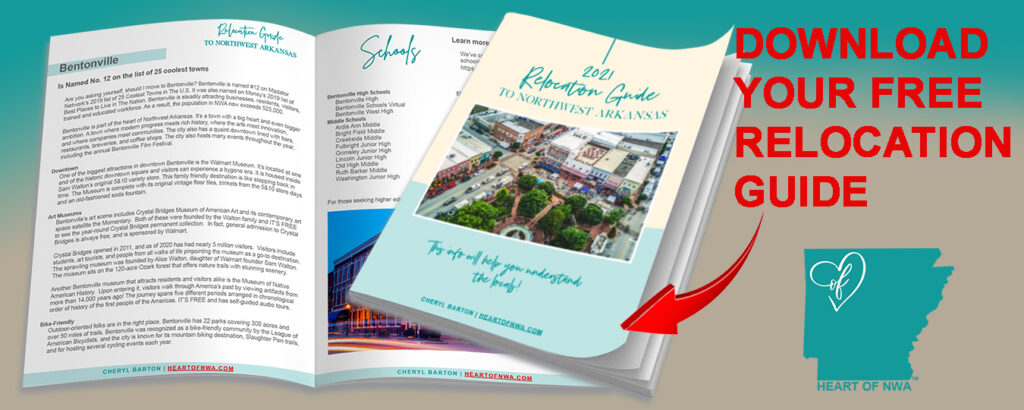 When you're out and about having fun in the Heart of NWA this month, take some photos and share them with me on Facebook or Instagram.  I'd love to see you in the Heart of NWA!
If you're interested in buying or selling real estate in Northwest Arkansas, contact me, Cheryl Barton, for more information at [email protected]